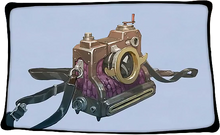 When the Banga settlement arrives in Jirga Para Lhao, Syd gives Kat a camera, which he found and fixed himself. The player can then use the camera to take photos of various sights and people around the world of Gravity Rush 2, uploading them for review by other players if they wish.
The camera comes into play during a few missions, such as Episode 8: Like a Radio, in which Kat covertly takes photographs of Fort Bismalia, or in the side mission One Day This Crush Will End, where she snaps pictures of a possibly-unfaithful boyfriend as he talks to women around town.
Additionally, the camera is used to take photos of treasure for Treasure Hunts, as well as for the Collection challenges.
Ad blocker interference detected!
Wikia is a free-to-use site that makes money from advertising. We have a modified experience for viewers using ad blockers

Wikia is not accessible if you've made further modifications. Remove the custom ad blocker rule(s) and the page will load as expected.