[[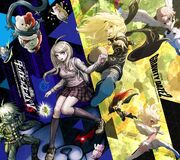 The
DanganGravity Live Broadcast
(ダンガンGRAVITY生放送) was a joint livestream held by Playstation Japan, streamed live online through Youtube Live, Fresh! and Nico Nico on December 25, 2016. The event involved a cross-collaborational playthrough of the demos of both
Danganronpa V3: Killing Harmony
and
Gravity Rush 2
, with each development team playing the others' game. Because the games had close release dates, and both development teams enjoyed each others' games, the event was planned in order to try and cross over their audiences.
The stream was hosted by Miu Iruma's voice actor Haruka Ishida and Sony's PR Yasuhiro Kitao. Director Shun Sasaki, writer Kazutaka Kodaka and producer Yoshinori Terasawarepresented Danganronpa V3, and director Keiichiro Toyama and producer Makoto Isomine represented Gravity Rush 2. The development teams and MCs discussed the games' developments
MonoMono Machine
Edit
Spike produced an online, interactive MonoMono machine during promotion for Danganronpa V3, which gave users 3 virtual coins per day to exchange for digital Danganronpa prizes such as phone/computer wallpapers and twitter headers/avatars. On 25th December, DanganGravity crossover wallpapers and headers were added to the MonoMono machine, available only until the December 27th.
Ad blocker interference detected!
Wikia is a free-to-use site that makes money from advertising. We have a modified experience for viewers using ad blockers

Wikia is not accessible if you've made further modifications. Remove the custom ad blocker rule(s) and the page will load as expected.