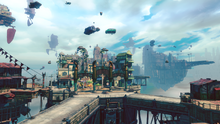 Lei Colmosna is the marketplace of Jirga Para Lhao. A bustling hub of restaurants, docks, and businesses, it is the first location to which Kat arrives after disembarking from Banga.
Locations
Edit
Archway Viewing Screen
Overlook Plaza Fountain
Radale Memorial Park
Sun Mansion
Tritower
Freestyle Race I
Lunar Style Race I
Newspaper Delivery I
Time Limit Battle I
The mechanical clock found above the Overlook Plaza Fountain manhole is synced with the PS4's clock. At midnight or 12 PM, the clock will open, and a mechanical goat head will emerge, breathing fire while making a gong sound. The goat also appears at every quarter hour (3, 6, and 9) but does not breathe fire.
Ad blocker interference detected!
Wikia is a free-to-use site that makes money from advertising. We have a modified experience for viewers using ad blockers

Wikia is not accessible if you've made further modifications. Remove the custom ad blocker rule(s) and the page will load as expected.