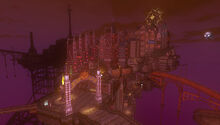 Pleajeune (プレジューヌ, Purejūnu) is a location in Hekseville, the second of the four districts to which Kat travels in Gravity Rush. Also called the Entertainment District, it houses numerous bars, shops, and venues that offer all manner of recreation and enjoyment. Additionally, it is home to Arquebus Academy.
It is also a location in Gravity Rush 2.
Geography
Edit
Locations
Edit
Gravity Rush 2 Edit
Arquebus Academy
Goddess Statue
Pandora's Fortunes
Aggressive Sales Tactics II
Behind the Scenes I
Customer Service II
Sliding Race II
Pandora's Fortunes
Pleajeune Station
Pleajeune's name is most likely a combination of "Pleasure" and jeune, the French word for "young" or "youth."
In Gravity Rush 2, fireworks will occasionally be set off in Pleajeune. A group of citizens gathers behind the ferris wheel and launches them into the air. If Kat attempts to shift into the fireworks, she will stop and cry out as if taking damage (although no actual damage is incurred). It is still unclear what triggers the fireworks show.
Ad blocker interference detected!
Wikia is a free-to-use site that makes money from advertising. We have a modified experience for viewers using ad blockers

Wikia is not accessible if you've made further modifications. Remove the custom ad blocker rule(s) and the page will load as expected.