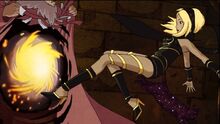 Rift Planes are a series of unique dimensions that exist on the other side of Gravity Storms. In Gravity Rush it is shown that Gade can summon a Gravity Storm (right). Each Rift Plane has a chance to spawn a Giant Nevi or even a Rare Nevi. Heres a list of the eight known Rift Planes.
Mining Site No.0
Mining Site No.13
Ad blocker interference detected!
Wikia is a free-to-use site that makes money from advertising. We have a modified experience for viewers using ad blockers

Wikia is not accessible if you've made further modifications. Remove the custom ad blocker rule(s) and the page will load as expected.